The Board of Education was given an update on the success of the High School "Education Academy" at the recent board meeting on January 23, 2023. Director of Secondary Education Keith Schneider, Associate Principal at Middleton High School Jill Gurtner, MHS English teacher Jen Mathison-Ohly and Junior Julia Knoke presented information regarding the partnership with Madison College to help aspiring new teachers expedite their degree in Education through the Academy.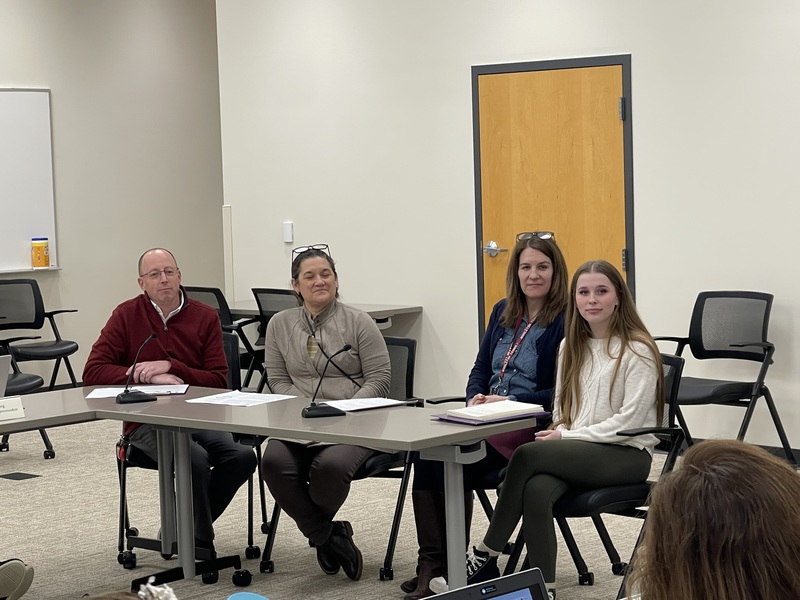 Through Advanced Placement courses, Dual Credit courses and classes at Madison College, the 10 students enrolled in the program can earn a high school diploma and half an Associates Degree in Education. The program is designed for students interested in the education field and provides a pathway to reduce the time it takes to earn their teaching degree. The credits earned for the associate's degree could be transferred to any University of Wisconsin school toward a bachelor's degree.
MHS English teacher Jen Mathison-Ohly and Associate Principal for Teaching and Learning Liz Merrick did much of the groundwork last year to collaborate with Madison College and bring the Education Academy to our district. Mathison-Ohly is teaching an Introduction to Education course, allowing students to observe teachers in three of our elementary schools: Elm Lawn, Sauk Trail and Northside.
Next year, another course titled "Education in Pluralistic Society" will be offered to students in the program.
"If I had had this opportunity in high school, I definitely would have taken it," said teacher Mathison-Ohly. "To know that you want to get into the education field and not have to pay anything to get started is a great opportunity."
"Going into classrooms and seeing how teachers teach from a different perspective was really cool," said student Julia Knoke. "This program also helped me determine what grades I want to teach later on. Also, understanding what strategies are best for handling situations in the classroom."
High School Sophomores are able to apply for the Education Academy for the 2023-2024 school year here; the deadline is March 1, 2023.
Application Requirements include:
Must currently be a sophomore with a junior standing in Fall 2023.
Preference will be given to those with a High School GPA of 2.75 or higher.
You must have a minimum 90% attendance rate your freshman and sophomore year.
Prior course work will be reviewed to confirm you are a Junior or Senior.
High school attendance while in the Academy must remain at 90% or higher.