To log into the campus portal, please use the following link:
Campus Portal
Having issues with your campus portal?
Please call the hotline at 608-829-9600 and leave a message or email portal@mcpasd.k12.wi.us
Logging into Campus Portal
Visit https://mcpasd.infinitecampus.org/campus/portal/mcpasd.jsp
View the following PDF to access the Parent Portal
Accessing the Campus Portal (PDF)
Access to student information empowers parents to have improved communication with their children about their academic experience. This tool is not meant to replace the personal contact we wish to have with our students and their families. Our hope is that it will enhance communication between home and school so that those personal contacts become even more meaningful.
Requesting Student Absence
Parent Portal can be accessed by parents of enrolled students. Students can also be given access to the portal, but they will only be able to access their own information. The Parent Portal address is:
https://mcpasd.infinitecampus.org/campus/portal/mcpasd.jsp
The Parent Portal can be viewed in English, Spanish, Simplified Chinese, or Traditional Chinese by using the language drop down at the bottom of the log in screen or at the bottom of the portal once signed in.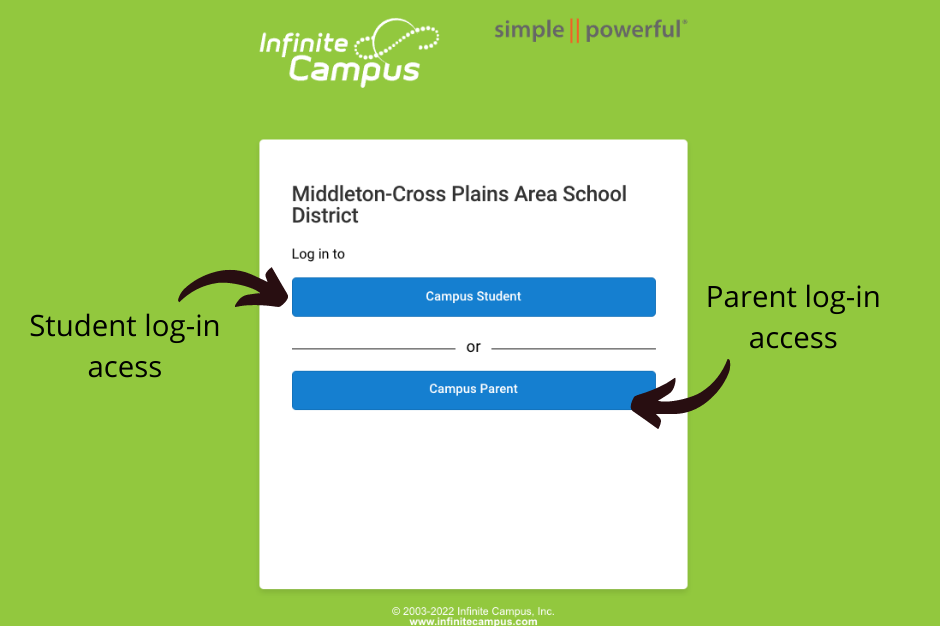 Users of the Campus Portal will have access to the following information:
Personal/Household Data

School Notices

Student Fees

Calendar

Attendance

Immunizations

Class Assignments and/or Grades

Class Schedules

Student Assessments

Report Cards

Transcripts

Portal Preferences

Transportation information including bus routes
The Middleton-Cross Plains Area School District reserves the right to add to or remove any of the above functions from the Campus Portal at any time.
Internet Browser: Internet Explorer 7.0 or higher (PC), or Safari (Mac)

Adobe Acrobat Reader

Internet Connection
Expected Use of the Campus Portal
Expected Use of the Campus Portal
In order to provide the Campus Portal to parents/guardians in a manner that allows teachers to focus their energies on student learning and assessment, please follow these expectations:
If you have a question about a particular course subject, please contact the teacher directly for clarification. You may also consult with the school office staff or principal.

Remember, all things in moderation. Real-time access does not mean that you need to be checking the system constantly.
Users of Campus Portal are required to adhere to the following guidelines:
Users will act in a responsible, legal and ethical manner.

Users will not attempt to access data or any other account owned by another user.

Users will not use Campus Portal for any illegal activity, including violation of privacy laws.

Users will not share their password with anyone.

Users who violate these guidelines or the protocol listed above may be denied access to Campus Portal.
Here are some other frequently asked questions about Infinite Campus: