We are asking all voters in the Middleton-Cross Plains area to participate in this survey to evaluate the District's needs, consider possible solutions, including an operational referendum, and contribute feedback regarding our current and future budget challenges.
The District held five community and two staff engagement sessions earlier this spring. We recorded one of the zoom presentations, so all community members have the opportunity to watch it on their own time. You can view that presentation and read our Frequently asked questions on our website.
Keep an eye out for our upcoming postcard we are sending to every home in our District!
You can use the QR code to access the survey. Simply open your camera application, hover over the qr code, and click the banner that pops up on your screen. You can also type in this URL link on your desktop. www.mcpasdsurvey.org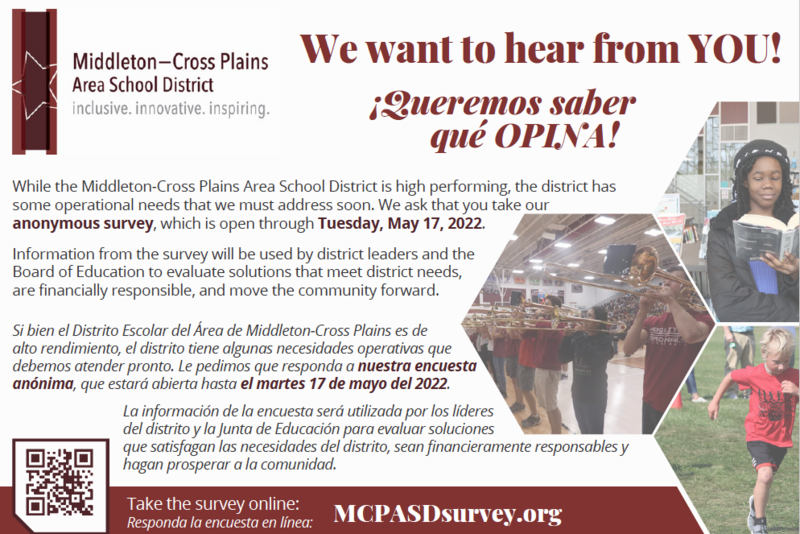 Another option is to pick up a paper copy of the survey at the following locations:
Any of our school buildings
The District Services Building located at 7106 South Avenue in Middleton
Middleton Public Library
Cross Plains Public Library
The anonymous survey will close on May 17 at 11:59 p.m.
Every adult in our community is invited to participate. The estimated time to complete the survey is 15 minutes.
We have some important information regarding our updated COVID-19 Protocols.
Proof of a negative PCR test will no longer be required to return to school after testing positive for COVID-19, experiencing illness symptoms, or having close contact with someone with COVID-19.
MCPASD will now accept a negative lab-based antigen test to return to school after experiencing illness symptoms or if unvaccinated and close contact with someone who tested positive for COVID-19.
Lab-based antigen tests are available at our district testing sites.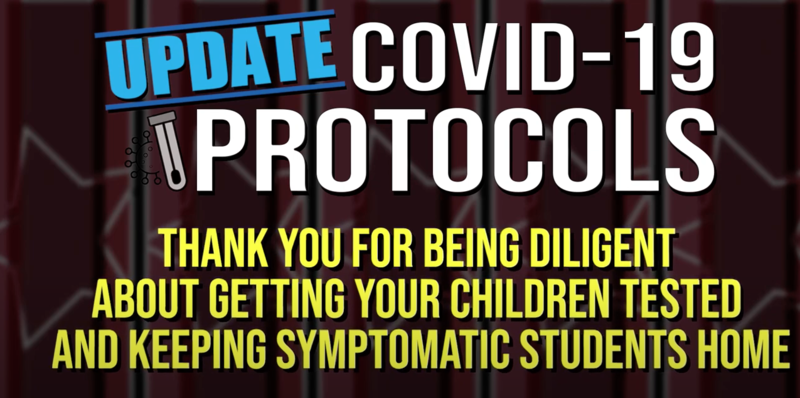 Lab-based antigen test results return in less than 1 hour instead of the 24-72 hours required for PCR results. Our goal is to reduce waiting times for test results in order to keep our students and staff in school. We are seeing an uptick in recent days in positive student and staff cases of COVID 19. Thank you for being diligent about getting your children tested and keeping symptomatic students home.
Our District is excited to announce our community businesses that have signed on to sponsor our two print publications.
Thank you to Scooter's Coffee, Amy Helt Photography, Spencer Real Estate Group and CI Pediatric Therapy Centers for supporting our schools. You are appreciated!
If you are interested in having your business sponsor us, please follow this link or contact Director of Info and PR Shannon Valladolid |(608)-829-9014 | svalladolid@mcpasd.k12.wi.us
We're so excited to share that MHS Junior, Ellen Zhou, won the Madison Symphony Orchestra's Bolz Young Artist Competition, the Final Forte!
Ellen performed at the Overture Center earlier this month, which was broadcasted live on PBS and Wisconsin Public Radio. She also wins a scholarship, among other prizes.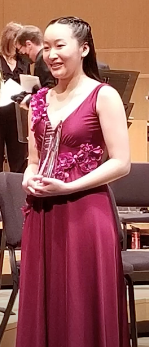 Congrats to Ellen and her amazing achievement!
Congratulations to Lauren Pansegrau, who was recently selected as one of 32 statewide finalists for the very prestigious 2022 WIAA Scholar-Athlete Award! Four boys and four girls from each of the four WIAA divisions were selected based on both athletic and academic achievement. Lauren was recently honored at the WIAA Scholar-Athlete Banquet in Wausau.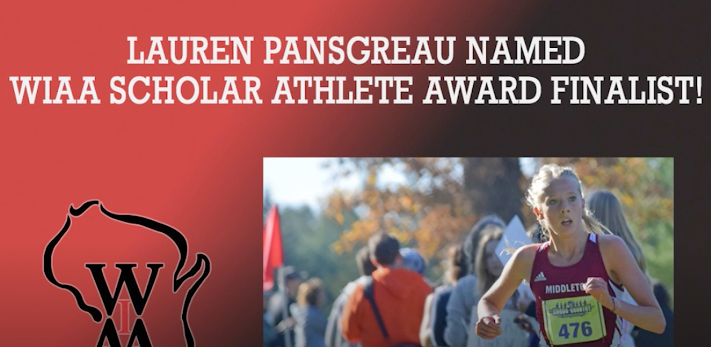 We are so proud of Lauren and all of her accomplishments as an athlete here at MHS!
Get ready to break out your walking shoes on May 14th! MCPASD wellness is hosting a family fun color run/walk at Kromrey Middle school. This is a great opportunity for both families and staff get active and have some fun! If you are interested in learning more about upcoming wellness events, be sure to check out the wellness page on our website and follow us on social media for our wellness Wednesday posts!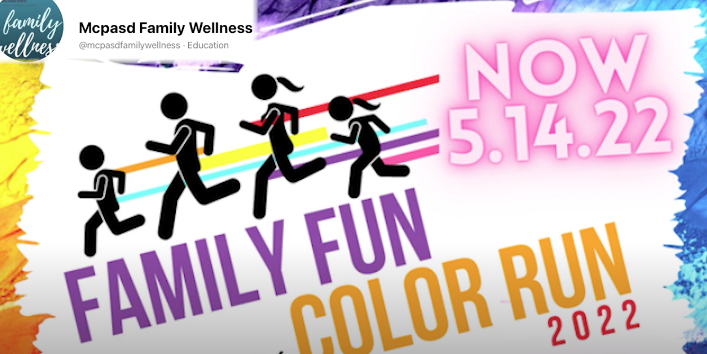 We have a few more success stories in academics! Join us in a round of applause for Lydian Hanson! She was awarded based on her academic excellence and high motivation to achieve. She is now one of 100 Wisconsin High School students to receive a $10,000 scholarship from the Foundation!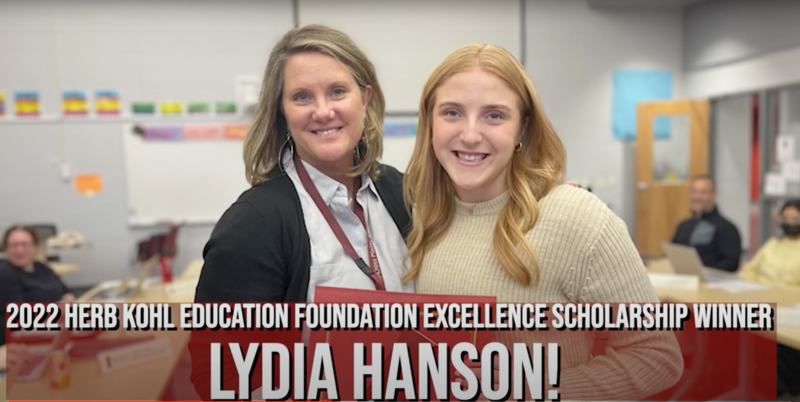 Way to go Lydia!
We wish the best of luck to MHS seniors Anastasia Leffel, Mihir Manna, and Daphne Wu! They have recently been named semi-finalists for the 2022 U.S. Presidential Scholarship Program! This scholarship is awarded nationally to high-performing graduating high school seniors. Currently, they are in the running to be one of the 161 finalists out of an original pool of 3.7 million. Great job, everyone!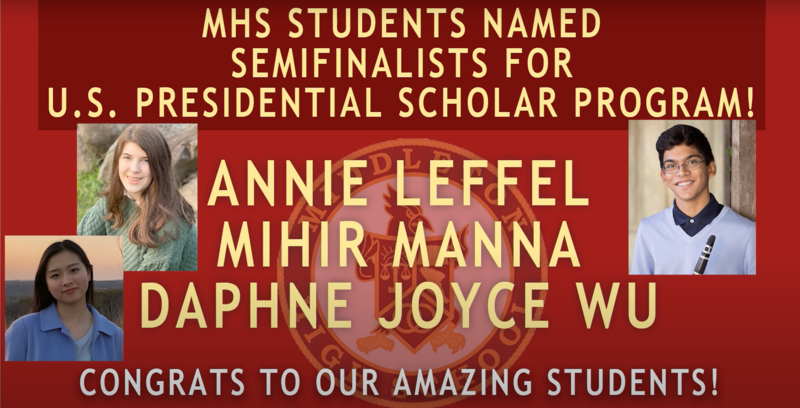 Best wishes to the 7 Clark Street Community School students who will soon be competing in the statewide finals for the Madison College 2022 High School Video Pitch Competition! These students are enrolled in a seminar called "Clark Tank," which partners with Madison college, the Middleton Chamber of Commerce and local entrepreneurs to learn how to start a business from top to bottom and present their idea. Congratulations to our young entrepreneurs!
Speaking of academics, did you know that Middleton High School was named the #1 best high school in the Madison-metro area by U.S. News? We are incredibly proud of our student s and staff that truly make us the best of the best! To view the full U.S. News ranking, please visit our website.
Change can be scary, but luckily for our fourth graders, they know there is always someone there to help! All of our fourth grade students had the opportunity to visit our two middle schools recently for a tour and Q&A session with 5th grade representatives and staff to learn more about their transition into middle school. Head on over to our website or youtube account to meet some of our fourth grade friends from Elm Lawn during their visit to Kromrey Middle School!
Our 7th and 8th grade students had the opportunity to try something new! They recently had a blast participating in a "Mini Model UN" conference hosted by our MHS Model UN students. Students played the role of various countries serving on the International Olympic Committee, tasked with the mission of planning and selecting a host country for the 2024 Summer Olympics.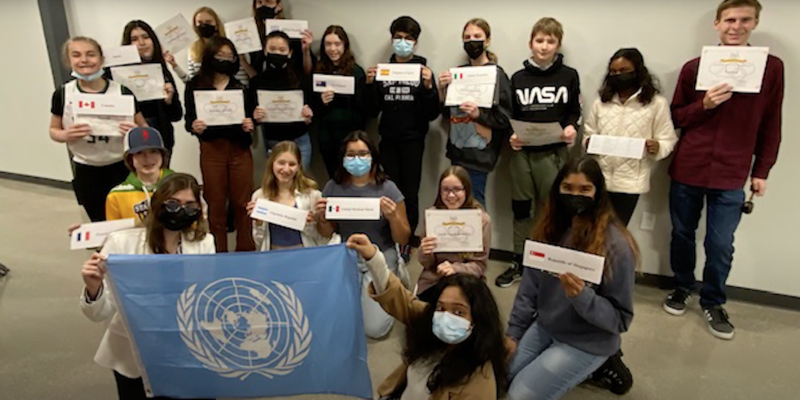 It has been a big year for the MHS Forensics team! To date, they have entered 144 competitions and left with 55 finalists. They also won 7 team awards with 2 first-place finishes. To wrap up the season they finished with 2 finalists in both the state and national tournaments!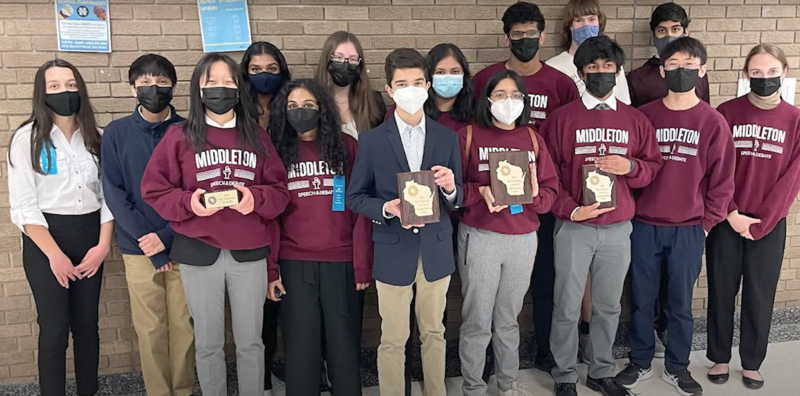 Congratulations to the entire forensics team!
We are so proud of all of our high school students that competed in the Capital Science and Engineering Fair! This event gives students the opportunity to explore their passion for science, research and experimentation techniques. A few of our students also earned several awards!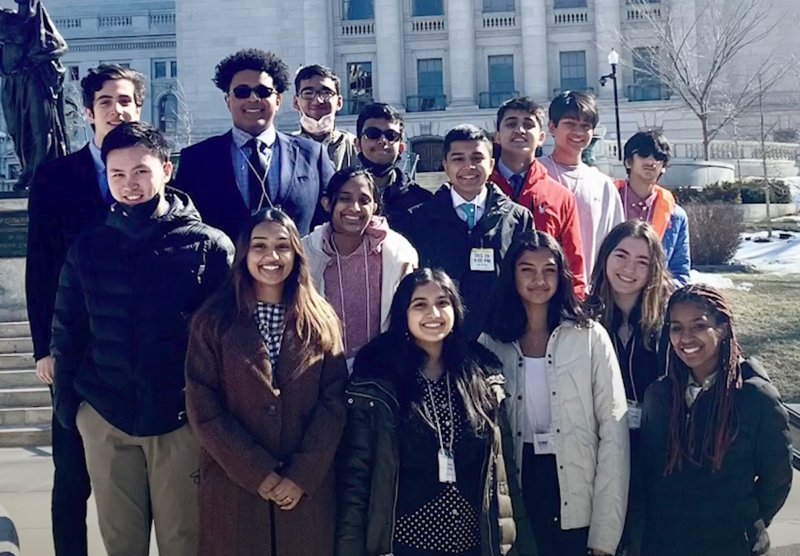 Hard work plus talent equals success! Round of applause for the Kromrey and Glacier Creek Middle School students who competed in the regional math meet at the goodman community center! Two of our MCPASD teams won first and second place and will now be heading to the mega math meet at UW-madison in late May.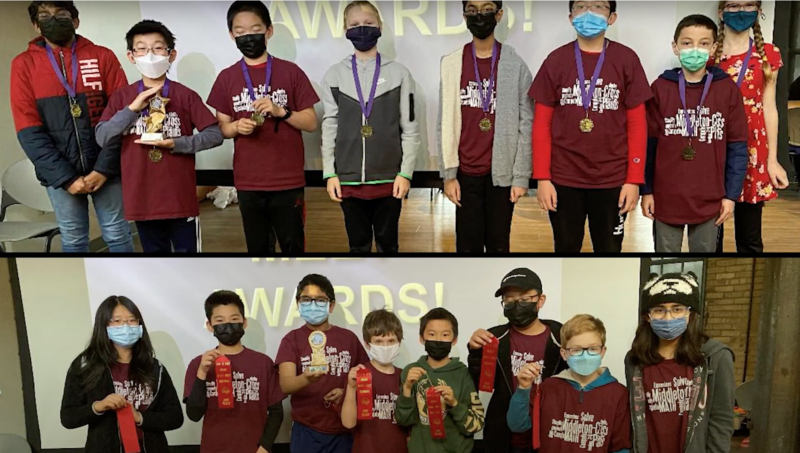 Congratulations to the 33 winners of the Yahara River Writers Project! This competition is sponsored by the Greater Dane County Advanced Learners Network and allows students in grades 5-8 to submit writing samples or drawings under various categories. Submissions were open in both English and Spanish. In fact, 8 out of the 12 Spanish submissions across Dane county were MCPASD students! The competition winners will have their work featured in the upcoming Yahara River Anthology! We are so proud of our talented student writers and artists!