Over the weekend, the MCPASD community gathered at Middleton Fireman's Park to commemorate former Middleton High School Head Soccer Coach Kenneth Burghy. With great pride, the soccer stadium was officially renamed to "Burghy Soccer Stadium," serving as a lasting tribute to Coach Burghy's extraordinary contributions to the soccer program and the lasting impact that he had on the alumni athletes in the MCPASD community during his remarkable 21-year career.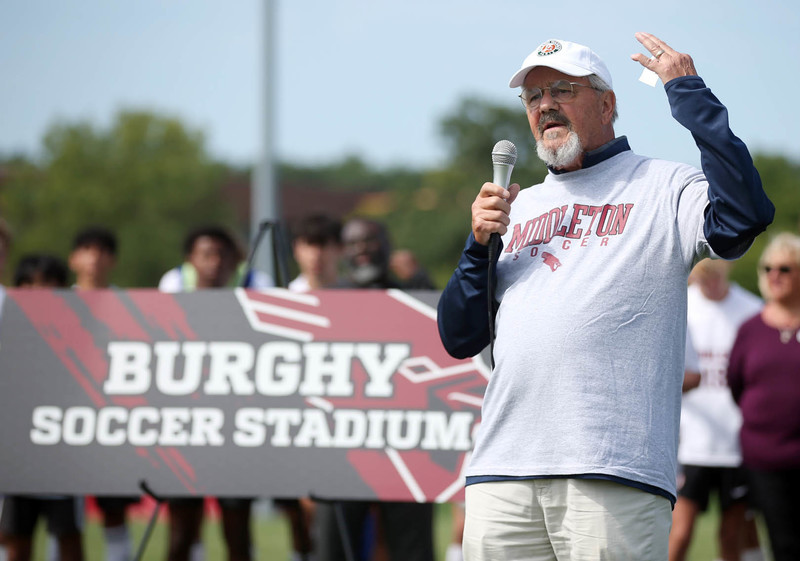 Coach Burghy played a pivotal role in the establishment and growth of both the boys' and girls' soccer programs at Middleton High School. His unwavering commitment to his teams and the community was evident through his remarkable achievements. Throughout his esteemed career, Coach Burghy finished his coaching career with 515 wins, 139 losses, and 49 ties in his 29 year stint as head boys coach. Coach Burghy finished his coaching career with 224 wins, 118 losses, and 40 ties in his 21 years serving as the girls programs head coach earning him the title of the second-highest win total in the state of Wisconsin, as recognized by the National Soccer Coaches Association of America.
Beyond his accomplishments on the field, Coach Burghy garnered immense respect and admiration within the soccer community and the broader Middleton-Cross Plains community. This unwavering admiration inspired countless individuals, including community members, alumni, and former staff, to join forces and advocate for the Middleton Fireman's Park soccer stadium to bear Coach Burghy's name.
By renaming the stadium, the community has reached a significant milestone in honoring the legacy of Coach Burghy. The Burghy Soccer Stadium stands as a symbol of his enduring impact on the lives of those fortunate enough to have crossed his path henceforth the inclusion of "Alumni Field". It represents the ideals of sportsmanship, leadership, and unwavering dedication that Coach Burghy imparted to his players.
As we gather within the grounds of the Burghy Soccer Stadium, let us take a moment to reflect on the profound impact Coach Burghy has had and continues to have. May this stadium be a constant reminder of the extraordinary influence a single individual can wield and the legacy they can leave behind. Coach Burghy, we honor your remarkable achievements and express our profound gratitude for the inspiration you have provided.