On Monday morning, the Middleton Cross Plains Area School District hosted a groundbreaking and shovel ceremony to celebrate the start of the new Middleton High School Stadium Improvement Project.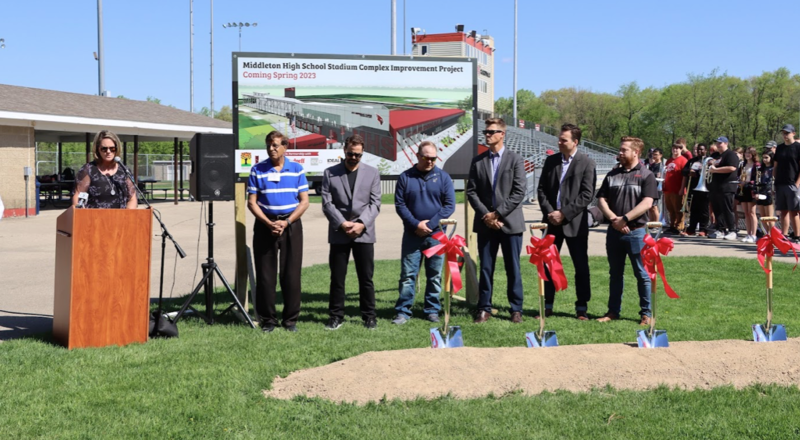 The district is partnering with Findorff Construction, Ideal Builders, and Eppstein Uhen Architects, with a completion timeline set for the Spring of 2023.
Superintendent Dr. Dana Monogue and the MCPASD Board of Education honored Mike Borden, Laurie Albrent, and the Borden Family at the event, who collectively donated $6.7 million to the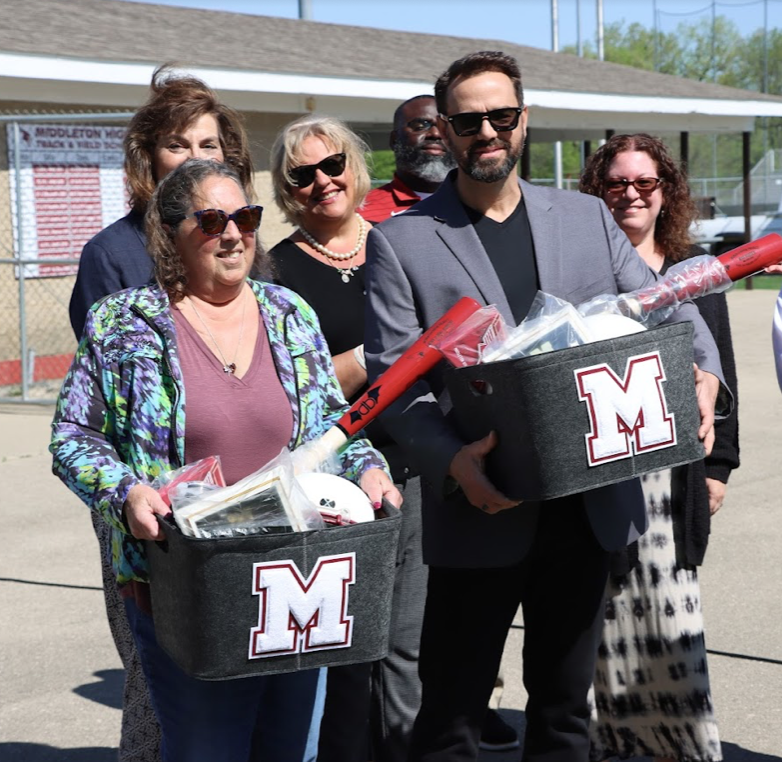 project. This is the largest single-family donation the district has ever received and likely, one of the largest single-family donations to a public school district in Wisconsin.
MHS Alumnus Mike Borden said a few words during the ceremony. He mentioned his love for the Middleton-Cross Plains Area School District and how important it is to give back to a district that gave him so much.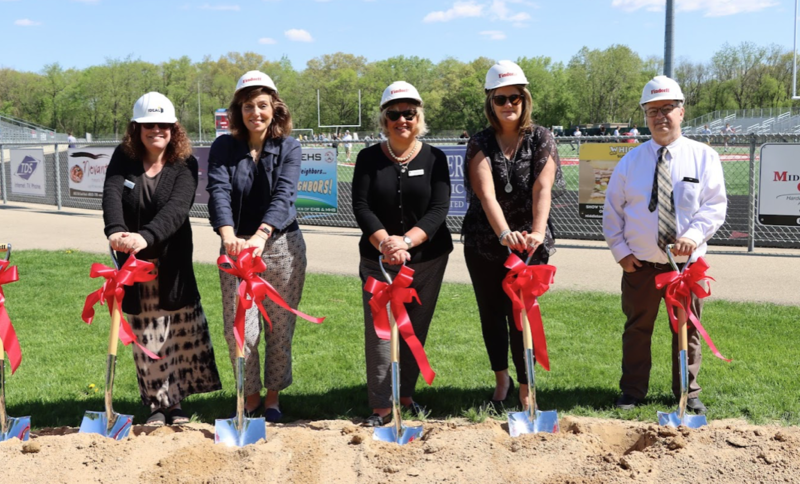 School Board Members in attendance included Vice-President Bob Green, Gail Shepler, Sheila Hibner, and Annette Ashley.

Our district also thanked the Middleton Education Foundation for being a valuable partner in this project.
"The Foundation's Executive Director, Amber Kiggens - Leiftheit, with her experience and passion, has been an integral partner in developing this project," said Superintendent Dr. Dana Monogue. "The Foundation's willingness to serve as the fiscal agent for the project has provided support and leadership necessary to make this vision come to life. Thank you to Amber and the entire Education Foundation Board of Directors for your support and belief in what's possible."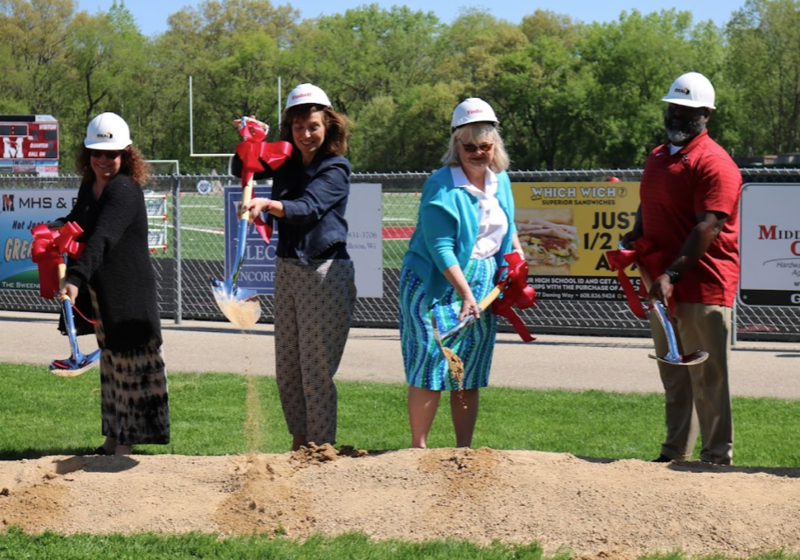 Included in the Shovel Ceremony from left to right: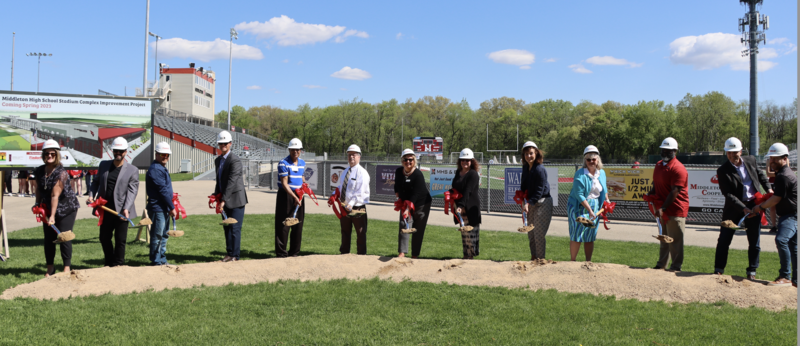 Superintendent Dr. Dana Mongue, Alumnus and Stadium Donor Mike Borden, Bing Albrent, Tim Clearly with Ideal Builders, Middleton Mayor Gurdip Brar, School Board Vice-President Bob Green, Area I Board Member Sheila Hibner, Area IV Board Member Gail Shepler, Area IV Board Member Annette Ashley, Middleton-Education Foundation Executive Director Amber Kiggens - Leiftheit, MHS Athletic Director Jamie Sims, Chris Michaud Senior Design Architect EUA, and Matthew Premo Senior Project Manager Findorff.
Background Information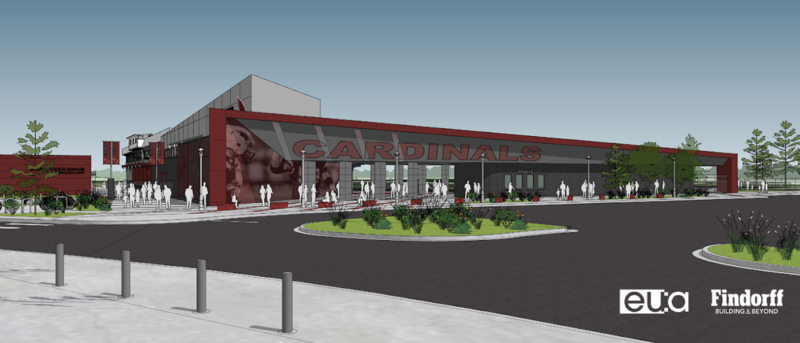 A few months ago, a group of dedicated alumni approached the district wanting to forge a partnership and relationship aimed at making our already excellent school district even greater.
Over the last several years, our district has made significant improvements and upgrades to our district buildings and facilities, thanks to the 2018 referendum that our community approved. This resulted in building a new elementary school and substantial upgrades to our high school campus.
Unfortunately, we have not been able to place a priority on athletics and activities facilities until now.
"Because of this partnership and the generosity of people like Mike Borden, Laurie Albrent, and others, we are now on the verge of an extraordinary and significant stadium complex improvement project that will have a positive impact on students and their families, our staff, and the greater community in countless ways," said Superintendent Dr. Dana Mongue during her speech at the groundbreaking ceremony.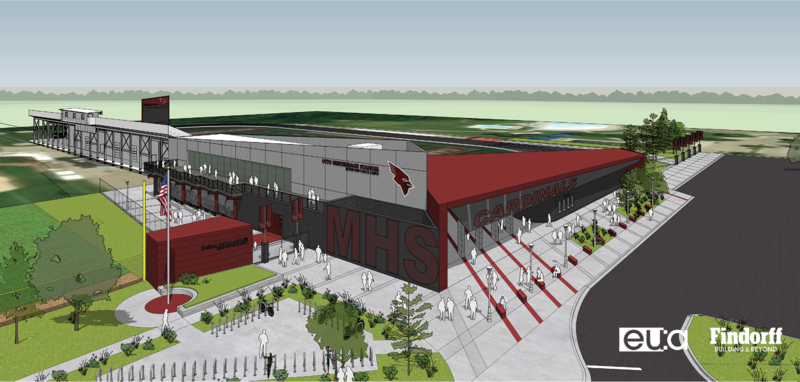 Some of the new stadium improvements include:
a new enlarged concession area.

Dedicated coaches and trainer rooms

New locker and team rooms next to the fields

30 new public toilet fixtures (1 family, 11 men's, and 18 women's toilets)

New ticket booths for the stadium and a new ticket booth for baseball.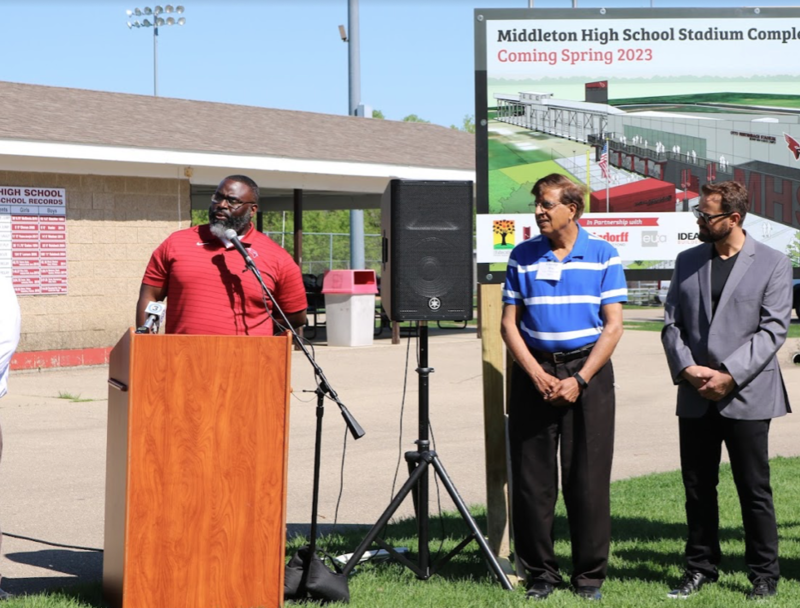 "This project will yield increased opportunities for our students and student-athletes by providing more access to hosting events for our athletic and activities programs. It will allow for more competitive chances at acquiring outside and local programs that wish to rent our facilities when available to host events ranging from various areas that stretch beyond athletics. This space will also allow for a place to host banquets and multiple options for fundraising events for our activities and athletic programming. Our clubs will also have the opportunity to utilize this space as needed," said Athletic Director Jamie Sims.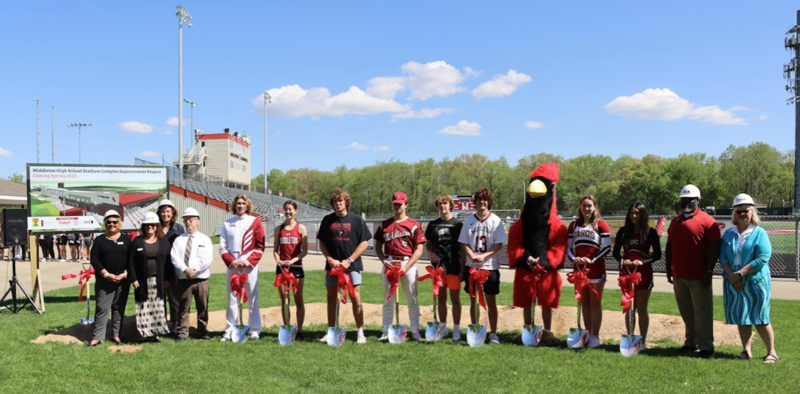 "This event will bring this dream even more into reality. I have high expectations for what this stadium will bring to our community and student-athletes. Truly a landmark moment in the storied history of academic and athletic excellence in Middleton while also extending opportunities for our community and citizens to enjoy and utilize an amazing new facility," said Tim Cleary with Ideal Builders.
The full project is estimated to cost between $8-12 million. The Middleton Education Foundation is helping fundraise the remainder of the monies needed to complete the stadium.
For more information on this project, visit our webpagehere.