The MCPASD Education Foundation supports our schools in so many ways! One avenue is through their annual "Inspiration Grant(s)."
This grant is available for our educators to apply for financial support with their great ideas for a school program, classroom lessons, supplies etc.
Sauk Trail Elementary School Music Teacher, John Becker, was kind enough to share an update on his 2022 Inspiration Grant Results.
Thanks to the support of the Education Foundation, Becker was able to host a school-wide music assembly at the end of the 202-23 school year!
He led the concert and arranged the music for this occasion, bringing up students to improvise with the band on a vibraphone, hand drums, and scat singing. The 4th Grade Orchestra played with the band, with most of them also improvising and playing jazz solos. All students were involved by singing the lyrics to the songs.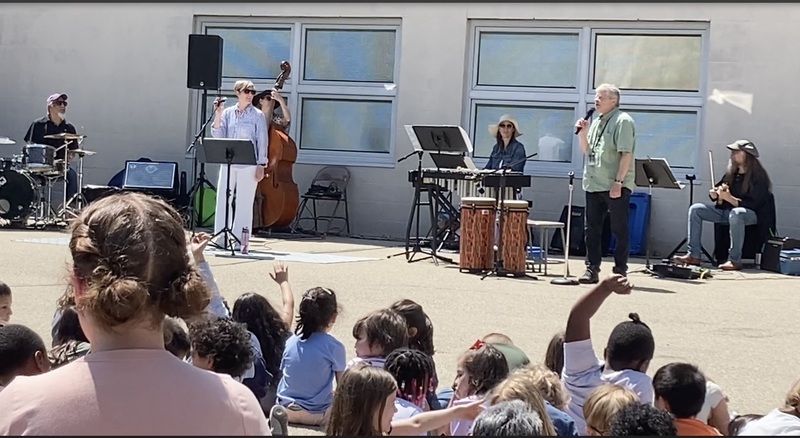 "We had a wonderful experience; very engaging and inspiring for our students! Many parents/family members were able to attend the concert. The performance was also very enjoyable and fun for the families, as well as for staff members. They loved seeing and hearing the interaction between the kids and the musicians," said Becker.
Becker was also able to invite friends and musicians:
Chris Wagoner | Violin and multi-string instruments
Laurie Lang Croasdale | Bass
Chris Sandoval | Drums
Becca Grant | Piano
Betsy Ezell | Vocals.
Musician Chris Wagoner, was also kind enough to visit all of Becker's music classes, where he chatted with students and showcased the range of instruments he plays.
Thank you to John Becker and his team for putting this great event together for our Sauk Trail families! Thank you as well to the Education Foundation for helping to make this event possible!