Madison College Education Academy
What is the Education Academy?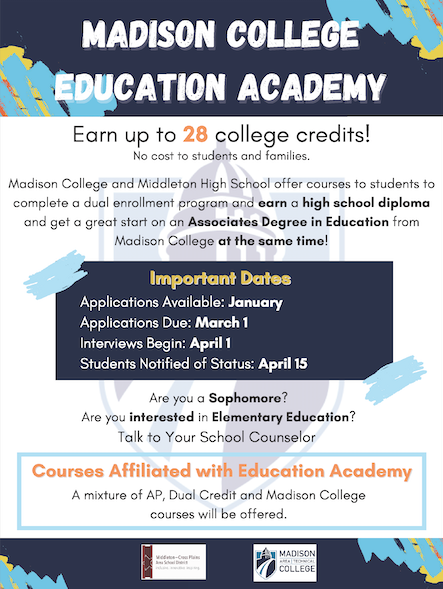 Through a mix of successful completion of Advanced Placement courses, Dual Credit courses (college courses taught at the high school) and classes at Madison College, the Education Academy allows current MHS students to complete a dual enrollment program and earn a high school diploma and half of an Associates Degree in Elementary Education from Madison College at the same time.

The Education Academy at Madison College is aligned with transfer programs to finish your teacher training.

One of the primary goals of the Education Academy is to address the teacher shortage in Wisconsin by providing a pathway for high school students to be introduced to a career in K12 education, and begin a course of study toward a bachelor's degree. To that end, students from under-represented populations are the primary audience, as they embody the biggest gap in teacher representation across Wisconsin.

All Dual Credit Courses are based on staffing and may transition to Madison College courses as needed. Madison College courses are available online or in-person.
When should I apply for this program?
Students should apply during their sophomore year, junior may be considered.

Applications are available in your support center in January/February, they are due to the center by March 1st.

Interviews with potential candidates will be completed by April 1st.

Notification of admission will be by April 15th. Student schedules will be re-worked at MHS after acceptance.
What are the Entrance Criteria?
As you consider this pathway, here are some basic requirements for all applicants.

Preference will be given to students with a High School GPA of 2.75 or higher.

High School students must have a minimum 90% attendance rate their freshman and sophomore year.

Prior coursework will be reviewed to confirm students have completed the appropriate classes to be at their junior or senior year of High School.
What happens if I am accepted?
If you are accepted to the Education Academy, there are benchmarks that must be met.

Students must complete the Madison College placement exam before enrolling in courses. This will help determine your math courses as well.

Attendance, while in the Education Academy must remain at 90% or higher.

Progress in the Education Academy depends on earning a grade of "C" or higher in courses taken in the first semester.

Students must pass English 1 at Madison College (or AP Language at MHS) and a minimum of Intermediate Algebra (Dual Credit at MHS or at Madison College) in the first semester/year.

Students may retake these courses if they do not pass. Please note this may delay your progression toward the degree.
Students will meet with their Madison College Academic Advisor once a month, during each semester.

Students must successfully complete a weeklong College Success course prior to their first semester.
How much does this program cost?
This program is free to Middleton High School students who are accepted.

Students can earn around 28 college credits at no cost to them. This program is valued at over $5,000.00.

The District and Madison College will select up to 25 students each year to send to the Education Academy.
Transportation/Books
If students do not want to travel to Madison College, courses will be offered remotely.

Dual credit set of books, access-codes, or other course materials.

There is also an option to rent books and be reimbursed.
Limitations
Students not fully in the cohort (Education Academy) do not receive additional counseling/advising support at Madison College
How do the credits convert at Middleton High School?
1-2 credit courses at the college level = 0.5 high school credit
3-4 credit courses at the college level = 1.0 high school credit

5 credit courses at the college level = 1.5 high school credit